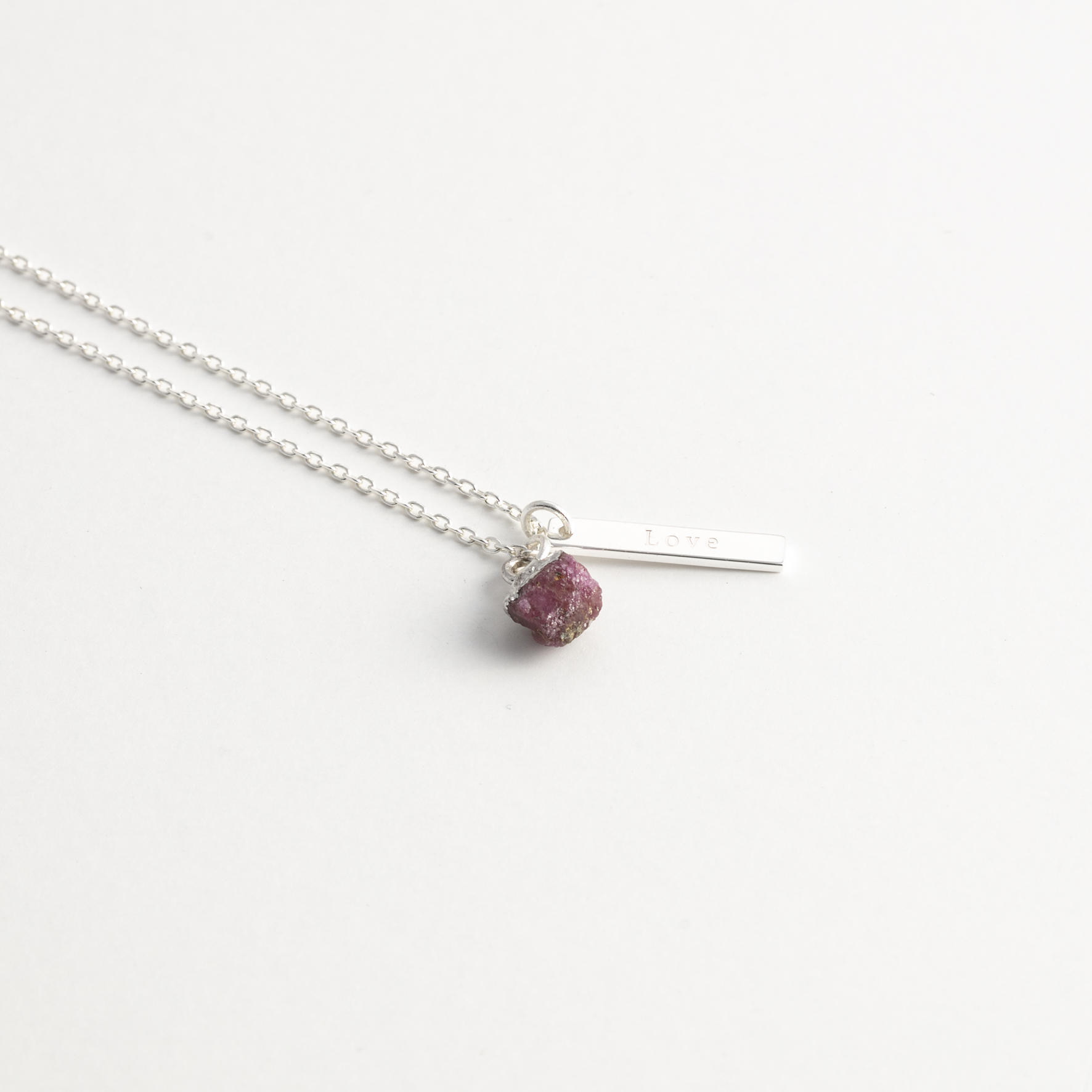 Fruit of Love Necklace
We love because He first loved us. - 1 John 4:19
You are so dearly loved. The creator of the universe calls you by name; you are fully known and truly loved by Him. Catch glimpses of His love with each glorious sunrise, on a blissful wedding day, and in every great love story ever written. Above all, look to the cross and remember that you have been given the greatest love of all; because of His love, you will always have love to give.
THE DETAILS
Materials: 925 Sterling Silver and genuine Ruby pendant

Pendant size: 17x3 mm bar and 6 - 8 mm gemstone

Our sterling silver chains are enhanced with e-coating, a protective layer that prevents tarnishing and scratches.

Delicately hand-stamped in a classic serif font

Every piece is handcrafted with joy in our NYC studio

Please see our shipping & production page for details on turnaround time
COLLECTION INSPIRATION
Galatians 5:22-23 But the fruit of the Spirit is love, joy, peace, patience, kindness, goodness, faithfulness, gentleness, self-control; against such things there is no law.
These nine fruits of a changed life are the hallmarks of inner beauty. Whether you want to show appreciation to a sister-in-Christ for her inspiring virtue or need a daily reminder of the fruit that the Holy Spirit is growing in you, let's celebrate the inner beauty that is being cultivated in each of us!
May these natural gemstones, formed slowly by intense heat and pressure in the earth over centuries, encourage you that the Spirit undertakes a powerful, transformative work in your heart; it's difficult, it's a struggle, and it takes time, but the fruit He produces in you is truly beautiful.